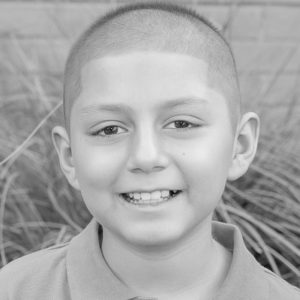 Fernando Zarate
Age 10
MAY
Fernando is 11 years old, an only child who absolutely loves spending time with his friends and making new friends along the way. Growing up he'd spend all of his free time playing with his friends. They organized weekly trips to the movies and had the best time together.
After kindergarten, Fernando and our family made a life transition from the United States to Mexico. His life and his friends, growing up, were in Mexico.
At only 10 years old his life completely changed. Fernando was diagnosed with lymphoma.
Our family faced yet another great challenge, and a huge weight was placed on us as parents to decide what road to take.
We decided to make the transition back to the States to seek treatment. This was a life changing decision. Fernando had to leave the life he knew and all of his friends to fight for his life in an unfamiliar place.
He is a fighter and hasn't let all that he's had to face change his outlook on life. He underwent two emergency surgeries due to the effects of his treatment, and had to temporarily live with an ileostomy bag. He was given the opportunity to go back to school, and although he was at a new school with no hair and an ileostomy bag he did not let that hold him back. He reconnected with fellow classmates he had in kindergarten and made tons more new friends. He absolutely loves being back in school and we are so grateful that his classmates and his school have been so supportive and embracing of him no matter how "different" he may look.
He is stronger than cancer and continues to show us all how brave and bright he is.