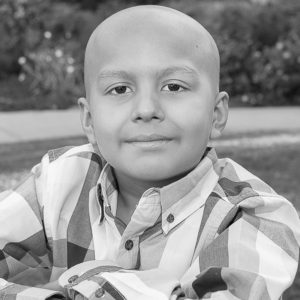 Joshua Padilla
Age 8
MARCH
On August 28, 2017 my son, Joshua Padilla, was diagnosed with Myeloid Sarcoma at 8 years old. Doctors found a tumor in the orbit of the left eye.
In June of 2017, I'd noticed his eye began to swell so much that his vision began to blur. He had double vision that caused severe headaches. I decided to take him to the emergency room and he was transported by ambulance to the hospital. From June 2017 to August 2017 several tests were performed, one of them was a biopsy that would confirm his diagnosis. The doctors were sure that Joshua would lose his eye when the biopsy was done. A necessary loss in order to get answers. The biopsy confirmed his diagnosis - Myeloid Sarcoma.
It was during the initial diagnosis that Joshua fell into depression. How do you explain to a young 8-year-old boy that he has cancer? And that he may be at risk of losing his eye? That he is going to lose his hair? And that he had to start chemotherapy as soon as possible to save his life?
His life suddenly changed. He used to work hard in school to be the best student in the class and now the fight was for his life.
Joshua, today, is in his last cycle of chemo and still has his eye and has perfect sight! After so many difficult moments, trials and struggles, Joshua has shown himself to be a WARRIOR and now his greatest desire is to become a great doctor to cure all children with cancer!
- Maria Ugalde (Mom)